For Immediate Release
August 27, 2015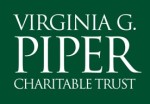 Steve Wilcox, Arizona Commission on the Arts
Communications and Research Director
602-771-6536 /
[email protected]
Karen Leland, Virginia G. Piper Charitable Trust
Director, Communications/External Relations
480-556-7125 /
[email protected]
Arizona Commission on the Arts Launches Creative Aging Initiative
PHOENIX, Ariz. (August 27, 2015): The Arizona Commission on the Arts has launched an unprecedented endeavor to build a local creative aging infrastructure that improves quality of life for older adults. A $225,000 grant (over three years) from Virginia G. Piper Charitable Trust will help the Arts Commission implement "AZ Creative Aging," a comprehensive plan that trains artists, supports the development of high-quality arts programs for older adults, and embeds creative aging knowledge and best practices in the community.
Dr. Gay Hanna, executive director of the National Center for Creative Aging, said the initiative's level of private financial support coupled with the public policy commitment supporting creative programming for older adults is like nothing else in the nation.
"It's brilliant," Hanna said of AZ Creative Aging.
"It's important in so many ways," Hanna said. "It will improve community livability and ensure quality of life throughout the lifespan. It's very important on a state level because Arizona, of course, is a huge retirement state. … Finally, on a national level, it's a model of how a private funder and a state arts agency can co-create an innovative partnership to address what really is a key issue of our time."
The benefits of creative aging became clear in 2006 after a national study developed in cooperation with the National Endowment of the Arts showed professional arts programming improved the general health and social well-being of older adults.
Robert C. Booker, executive director of the Arizona Commission on the Arts, said the state arts agency's initiative will turn leading-edge creative aging research into practices that uniquely benefit individuals and help a society that, for economic, social, and cultural reasons, has a vested interest in the health of its burgeoning older adult population.
"If you're actively engaged in a theater or dance class, if you are painting or writing or singing, you are contributing to your better health and well-being," Booker said. "So everything that creative aging does has a direct impact on the health of older adults. Cognitive growth, spatial understanding, the freedom that comes from moving one's body, all of those things are fostered through the arts."
The population of Maricopa County residents 65 and older is expected to surge to 700,000 people in 2020, according to the Maricopa Association of Governments. The Arizona Department of Health Services estimates that within the next decade there will be as many people 65 and older as those 15 and younger in the state.
Dr. Susan Pepin, president and CEO of Virginia G. Piper Charitable Trust, said the trust is pleased to support the initial phases of the Arts Commission's thoughtfully designed creative aging community development plan. "We have no doubt that the Arts Commission will build and sustain a creative aging movement that will change for the better how older adults see themselves and how others see them," she said.
The Arts Commission's strategic initiative includes professional development for local teaching artists and building a network among artists, arts organizations, and aging and healthcare service providers. One of the most unique and promising components of the Arts Commission's plan is a teaching artist institute, a comprehensive training program that will endorse individuals as creative aging teaching artists. The teaching artist institute's first cohort will be selected this fall.
Creative aging programming aligns perfectly with the missions of both Piper Trust and the Arts Commission. Arts and culture and older adults are two of six key areas of interest for Piper Trust. Lifelong learning in, through and about the arts has long been a central component of the 50-year-old Arts Commission's mission, and in recent years the agency has increased its emphasis on older adult populations and intergenerational programming.
"At any age, creative expression brings clarity to and allows for sharing the human experience," Pepin said. "Our culture is often focused on youth and perhaps we have not fully considered the transformative powers the arts have on older adults. AZ Creative Aging dramatically changes that social dynamic."
---
About Arizona Commission on the Arts
One of 56 state and jurisdictional arts agencies across the United States, the Arizona Commission on the Arts is a 49-year-old agency of the State of Arizona and a leading force in the creative and professional development of Arizona's arts sector. Through robust programs, research initiatives and strategic grantmaking, the Arts Commission catalyzes arts-based partnerships that strengthen Arizona communities through the arts. For more information about Arizona Commission on the Arts programs, services and grants, visit www.azarts.gov.
About Virginia G. Piper Charitable Trust:
Virginia G. Piper Charitable Trust supports organizations that enrich health, well-being, and opportunity for the people of Maricopa County, Arizona. Piper Trust grantmaking areas are healthcare and medical research, children, older adults, arts and culture, education, and religious organizations. For more information, visit www.pipertrust.org. Follow us on Twitter @PiperTrust; visit us on Facebook. View Piper Trust's FY14 Annual Report at: www.pipertrust.org/annualreport2014