When:
April 6, 2023 @ 11:59 pm – 11:59 pm
2023-04-06T23:59:00-07:00
2023-04-06T23:59:00-07:00
The application period for FY2023 Festival Grants is now closed.
Guidelines and applicant resources for FY2024 Festival Grants will be published by mid-February. Applications will be due in April.
Festival Grants support organizations in their efforts to provide quality arts and culture programming through festival activities and are awarded to assist with the costs of connecting artists and culture bearers (or their artistic work) with communities.
Festivals allow communities to share artistic and cultural traditions which can create vibrant opportunities and experiences for community members and visitors. A festival is often a person's first experience and point of entry with the arts and can serve as a bridge to new kinds of arts attendance.
Festivals may be multidisciplinary in scope and often feature arts engagement opportunities. Festival activities can include various performing, visual and literary arts, food, and traditional demonstrations, but also may be specific to an artistic discipline.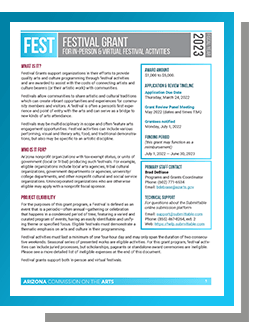 To help organizations prepare their best application, Arts Commission staff will present an online information session.
A recording of the session will be posted here on Monday, February 28.
Thursday, February 24
3:00 pm – 4:00 pm
Recorded Info Session
Originally presented on February 24, 2022, this information session offers viewers an overview of the Festival Grant program, including eligibility requirements, application questions, and review criteria.